About Bettas4All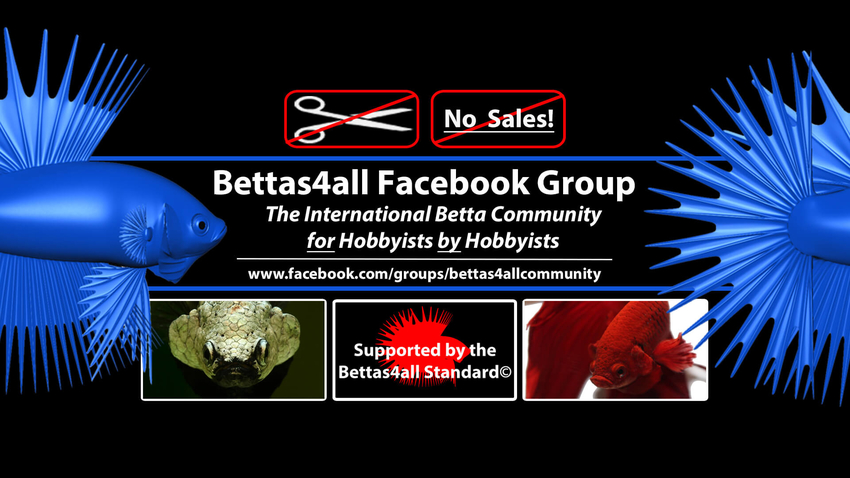 www.facebook.com/groups/bettas4allcommunity
The International Betta Community for Hobbyists by Hobbyists
The beginning of the Bettas4all Community was founded in September 2004 with the Bettas4all Forum (www.bettas4all.nl) in order to bring Betta hobbyists together from all over the world to share knowledge and experience with respect to the keeping, breeding and showing of (show) bettas. In 2013 the Bettas4all community was expanded with the Bettas4all Facebook Group which grew into a group of +17K members from all over the world. In July 2020, the original Bettas4all Group with +17K members from all over the world, sadly was taken down by facebook for unknown reason. We therefore decided to start  over from scratch with a new Bettas4all Facebook group. Please click the banner or link above to join us.
The Bettas4all Community is well-known because of the following characteristics:
Professionality: The Bettas4all community is managed by an international team of dedicated and experienced hobbyists.
Respect: The Bettas4all community has a friendly atmosphere where members respect each others opinion.
Informative: The Bettas4all Community provides you with all the information you need with respect to keeping and breeding show Bettas.
Speed: Posting on the Bettas4all forum usually results in a quick response by the Bettas4all Moderators or the other members of our forum.
In the past years the Bettas4all Community developed the Bettas4all Standard© and has been very active to promote the beautiful Betta hobby in the Netherlands and the rest of Europe by organizing several events which can be viewed by clicking "Bettas4all Events" in the menu above.
BEWARE, THE "BETTA-VIRUS" IS OUT THERE!
We hope to welcome you on our forum or at one of our events.
The Bettas4all Team