Vivariumbeurs 2014
Bettas4all events: Vivarium 2014 – Nieuwegein, the Netherlands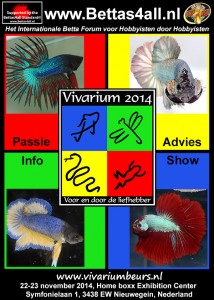 Vivarium 2014 was a great succes! It was great to see the biggest aquarium fair of the Netherlands return after a 1.5 years of absence. The Vivarium fair without any doubt is the place to be for aquarium, paludarium, terrarium and pond hobbyists. In our stand we presented ~150 show bettas in different color and finnage varieties to the public. All fish were bred by the hobbyists of the Bettas4all Show Team. It was great to see so many people interested in our beautiful hobby and many fish went to new owners.
We would like to thank all our forum members, friends and visitors who took the time to pay a visit to our stand at Vivarium 2014.
Special thanks to the Bettas4all Team at the stand (Arie de Koning, Annemiek van Driel, Jolanda and Gerrit Wisseborn, Michiel van Bemmel, Michel Stokkelaar, Nick in 't Veld en Max Derix) for their efforts and dedication, you ROCK!!