Bettas4all @ Vivarium 2012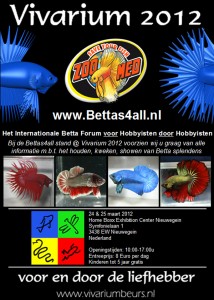 This year the Vivarium fair celebrated its 5th anniversary! With a surface area of ~12000m2 and more than ~8000 visitors, the Vivarium fair is the place to be for aquarium, paludarium, terrarium and pond hobbyists. After the big succes of our stand in 2011, we were proud to present again at the 2012 edition. By using a part of our show set-up we were able to present a proffesional looking stand of ~9 meter where ~150 show bettas in different color and finnage varieties were shown to the public. All fish presented in our stand were bred by the hobbyists of the Bettas4all Show Team. We were also proud that our head sponsor Zoo Med joined us at the Vivarium fair by presenting the  aquarium- and terrarium-related products from their assortment to the public.
We were happy to welcome so many people at our stand including several members of our forum and several good betta friends from Germany. It was great to see so many people interested in our beautiful hobby and many fish went to new owners.
We were very proud to receive the award for "Best Forum stand" by the organization of the Vivarium Fair. This really is a crown to the hard work of the entire Bettas4all Show Team in the past years.